Bikepacking the San Juan Islands
Orcas and Lopez Island - July 2022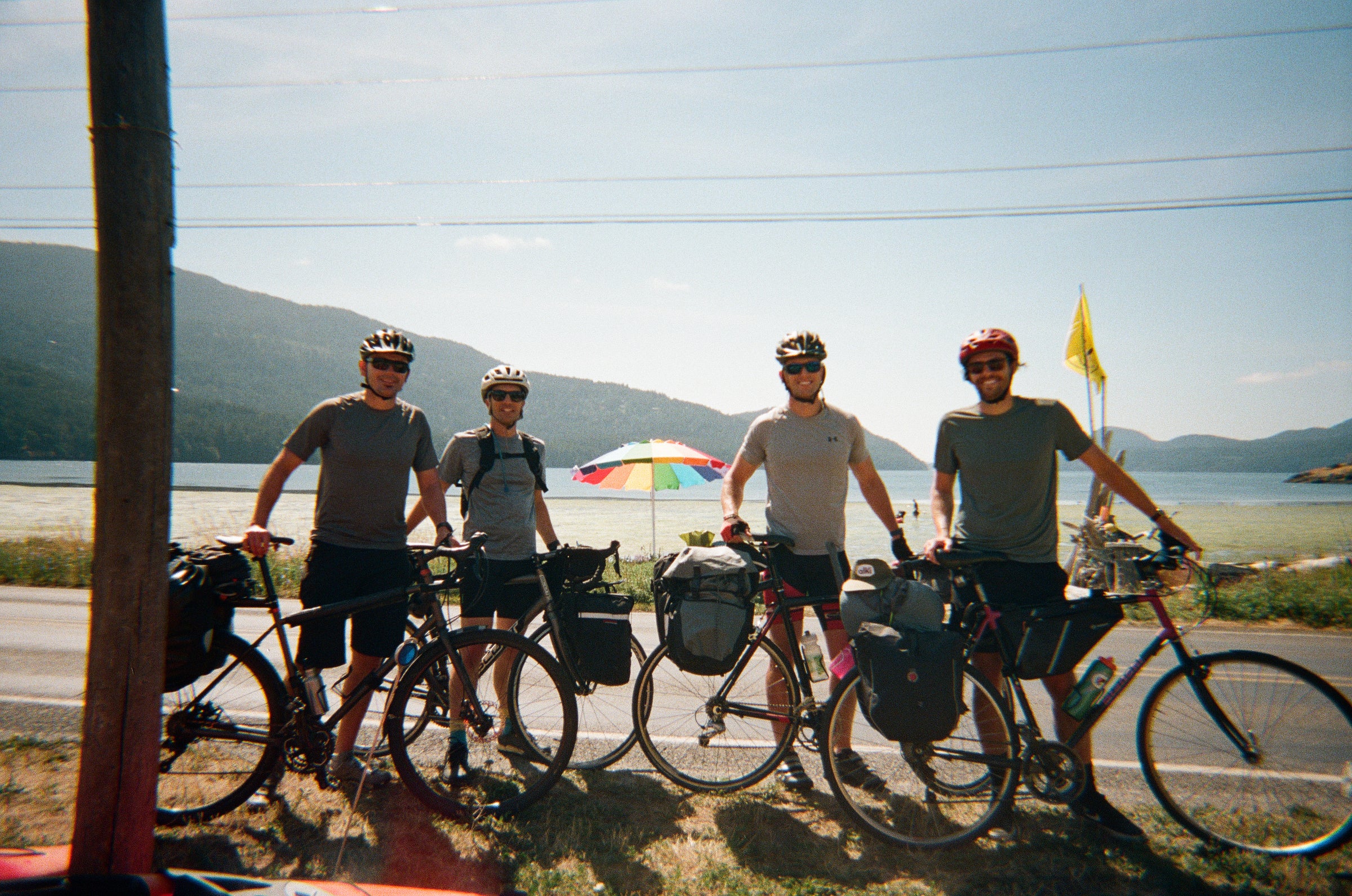 from left to right: Nick, Jesse, Chaz, Evan
About The Photos
I've struggled with photography over the years. I'm never happy with the photos I get out of my iPhone, but don't want to put in the time/money to learn how to use a so-called "real" camera. Enter the Ilford Sprite 35-II. I watched a couple of excellent YouTube videos on this camera ( here and here) that inspired me to give it a go. The goal with this camera was to get some photos with nostalgia baked into them without any work in post.
Day 0: Good Looking Bloke
"He's the extremely good-looking bloke with arms like cannons. So, pretty hard to miss." That was the text I got from my friend James to help me locate Chaz, the guy putting together a bikepacking crew for a trip to the San Juan Islands. Chaz lived up to James' description plus some - the guy's teeth are cleaner than a fresh sheet of copy paper. And I certainly wasn't surprised to learn he still holds the record for single season punt returns at his high school back in Kentucky.
Things come in groups of three for Chaz. Before speaking, he asks himself, "Is it true? Is it necessary? Is it kind?" If what he has to say passes those qualifiers, he says it. Similarly when planning an epic trip, the Rule of Chaz demands the following: rigorous activity, excellent conversation, and top-notch food. Our little jaunt from Orcas Island to Lopez Island had all of that in spades.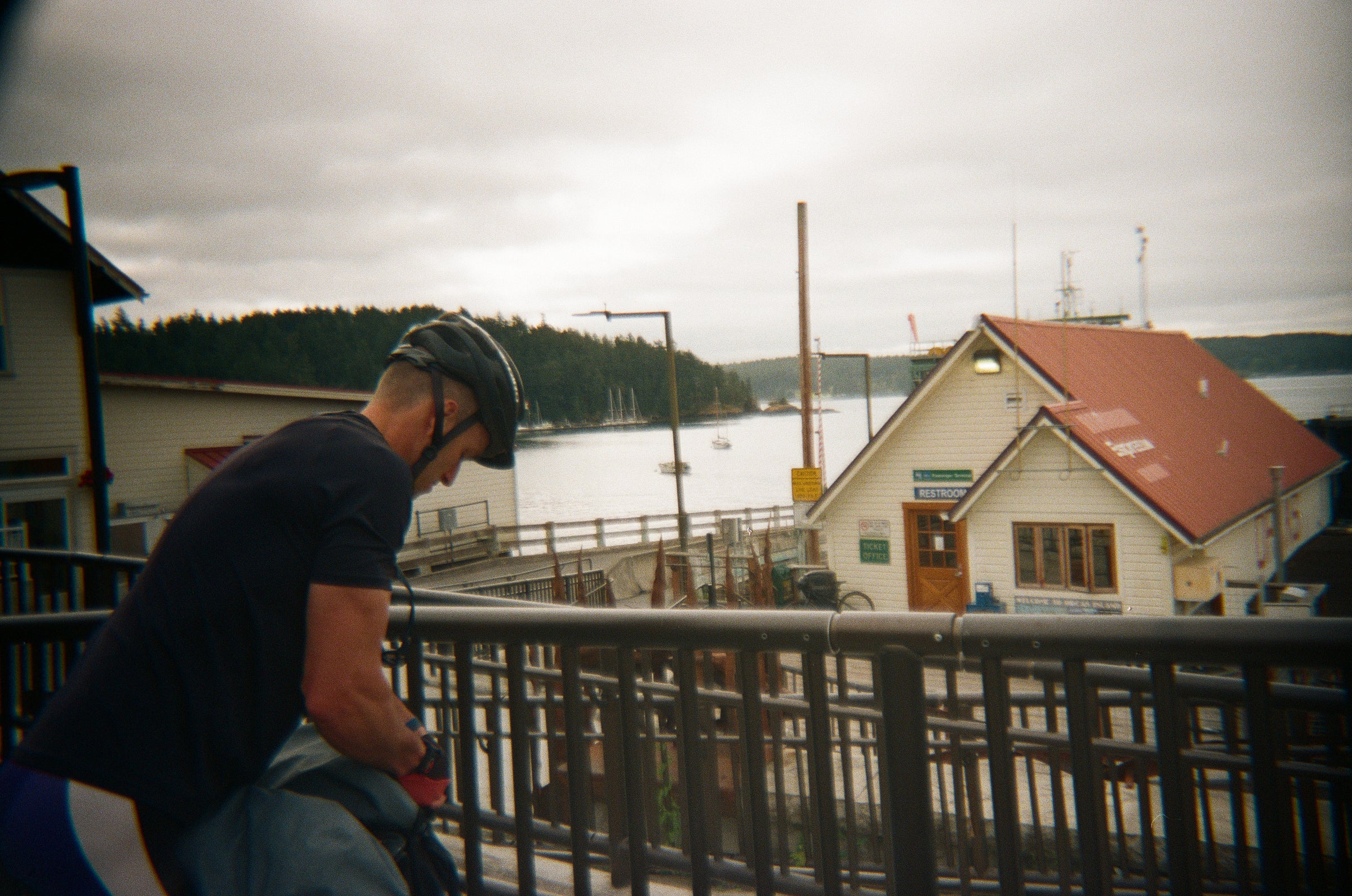 ORCAS ISLAND FERRY LANDING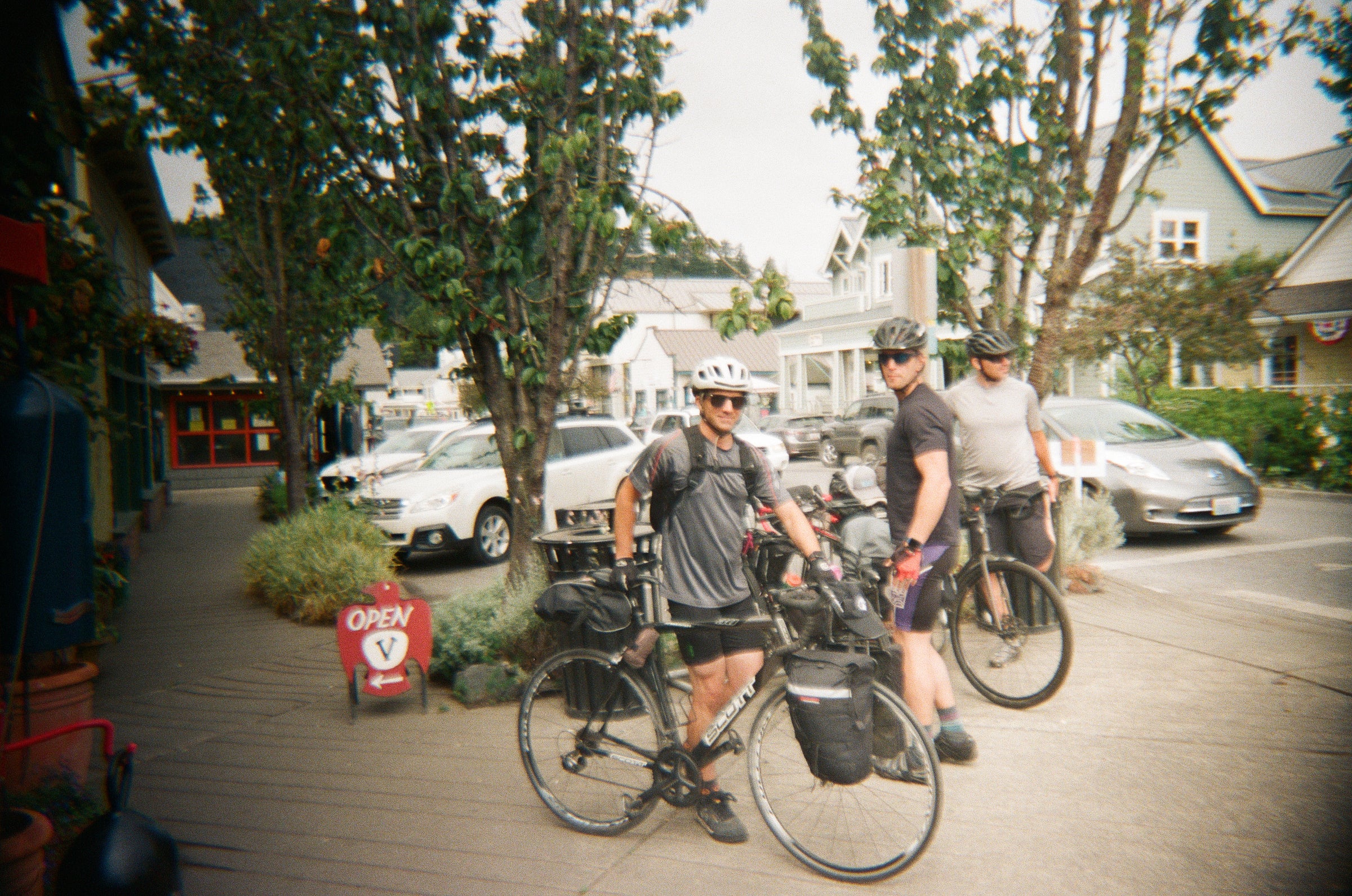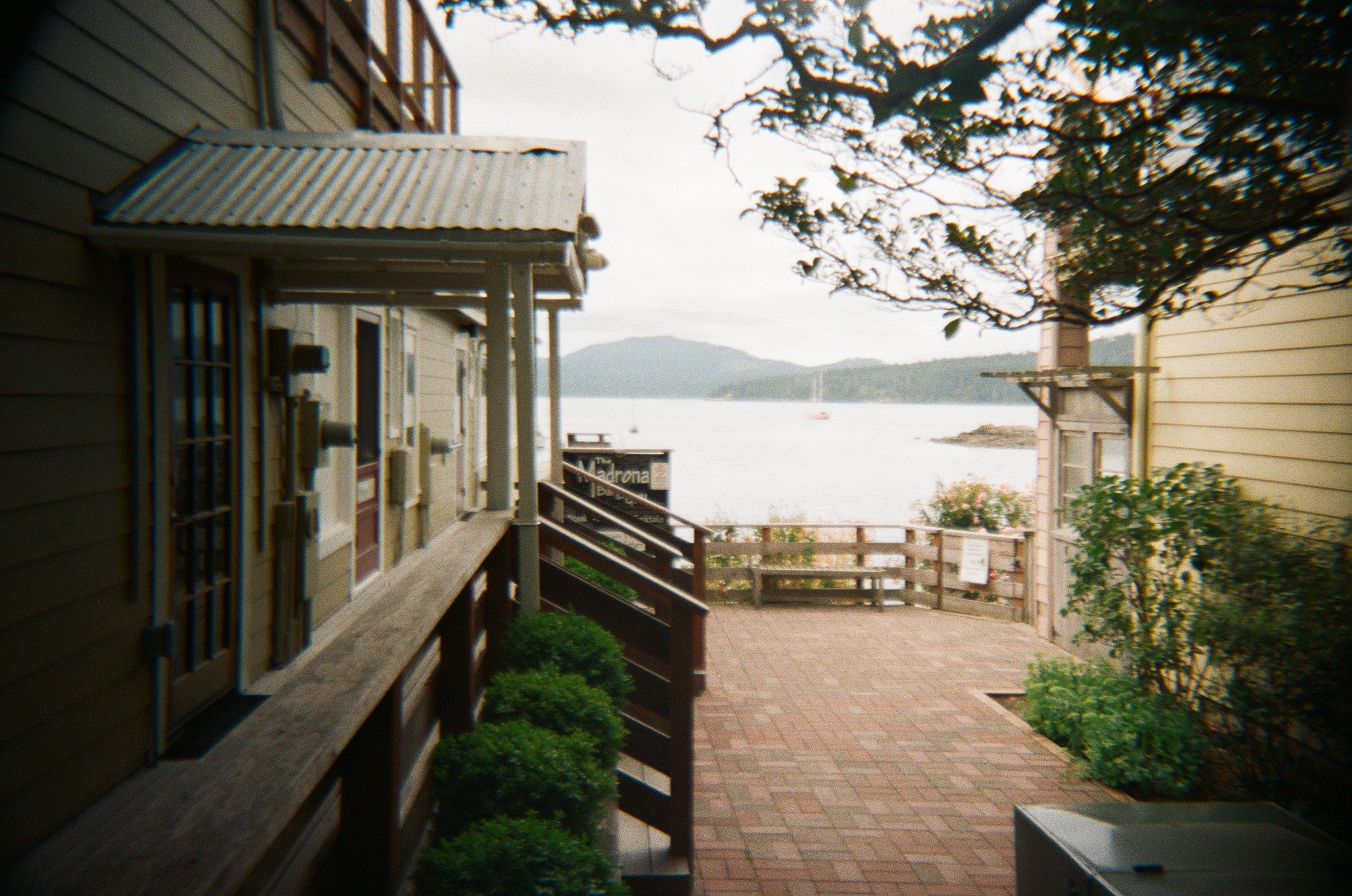 Day 1: Orcas Island
You couldn't have asked for a better weekend in the San Juans. The weather was sublime and the crew gelled right out of the gate.
We caught an early ferry on Saturday morning leaving Anacortes.The first leg of biking was from the Orcas ferry landing into Eastsound (8.3 miles, 750' of climbing). I felt the weight of my gear on the first climb out of the ferry landing. After that, there were some decent hills but my legs were fresh. Most of the destinations we hit on Orcas were at sea level, but the paths to get there cut inland and rise hundreds of feet above the Sound. Our campsite in Moran State Park was up around 650' above sea level.
On our first day, we enjoyed the cuisine of Brown Bear Baking , Buck Bay Shellfish Farm and Rosario Resort (all locations at or near sea level). We took a quick splash at Doe Bay and capped the day with whiskey and cribbage back at camp for a rough total of 29 miles and 3,300 feet of climbing. A kind gentleman from Rosario gave us a ride up to the entrance of the state park after dinner at Rosario because our legs were cooked.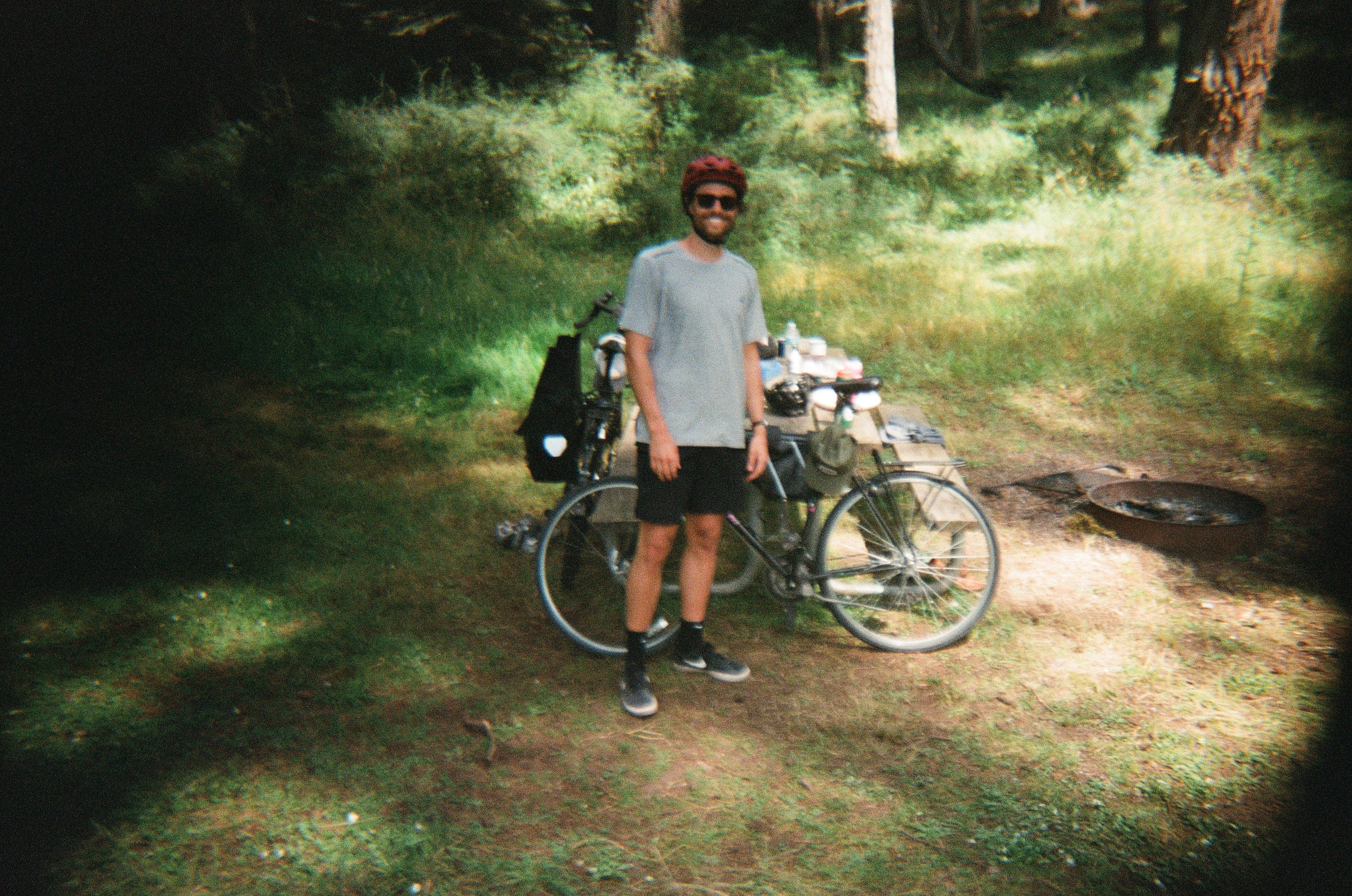 Moran State Park, Orcas Island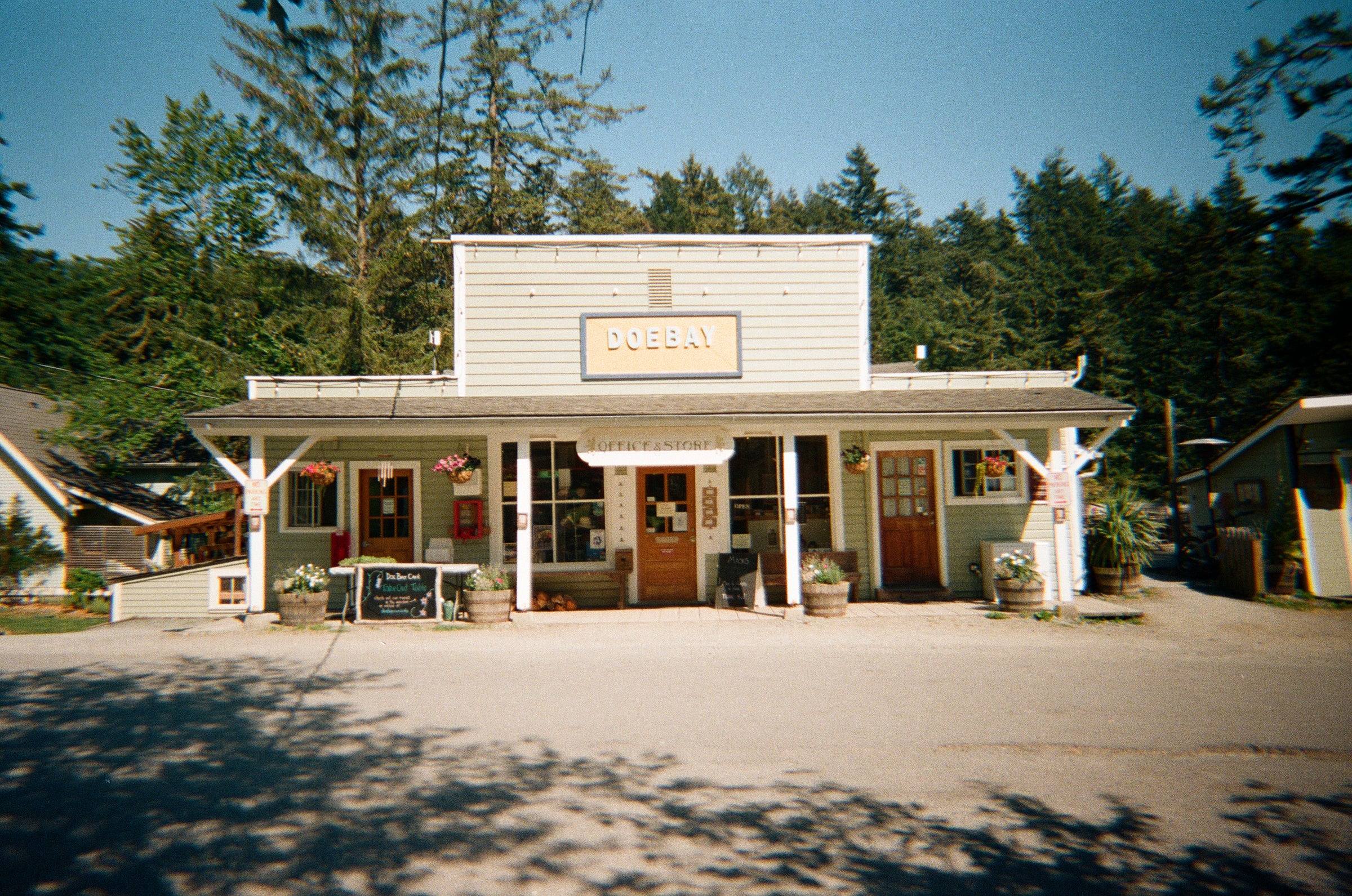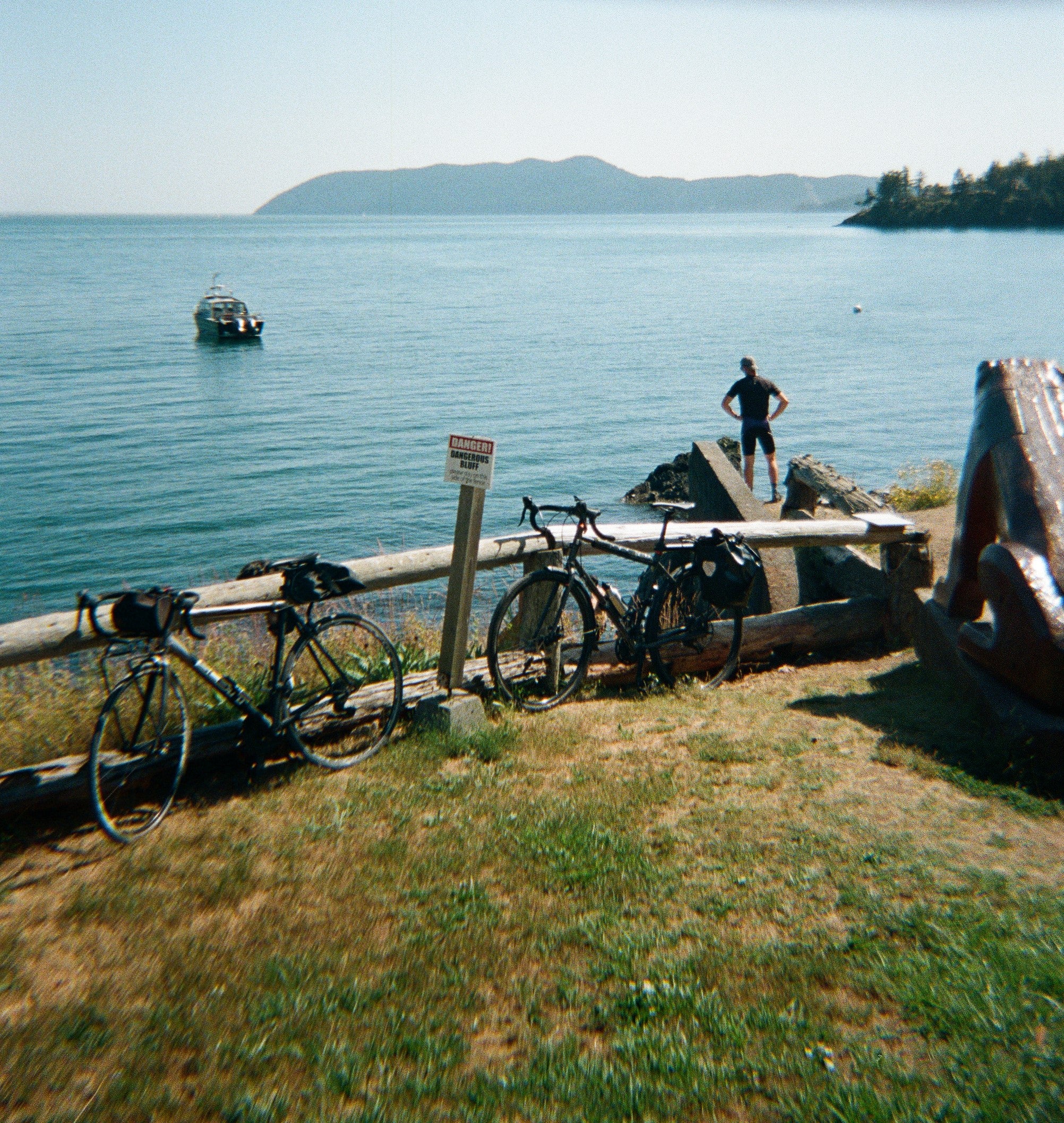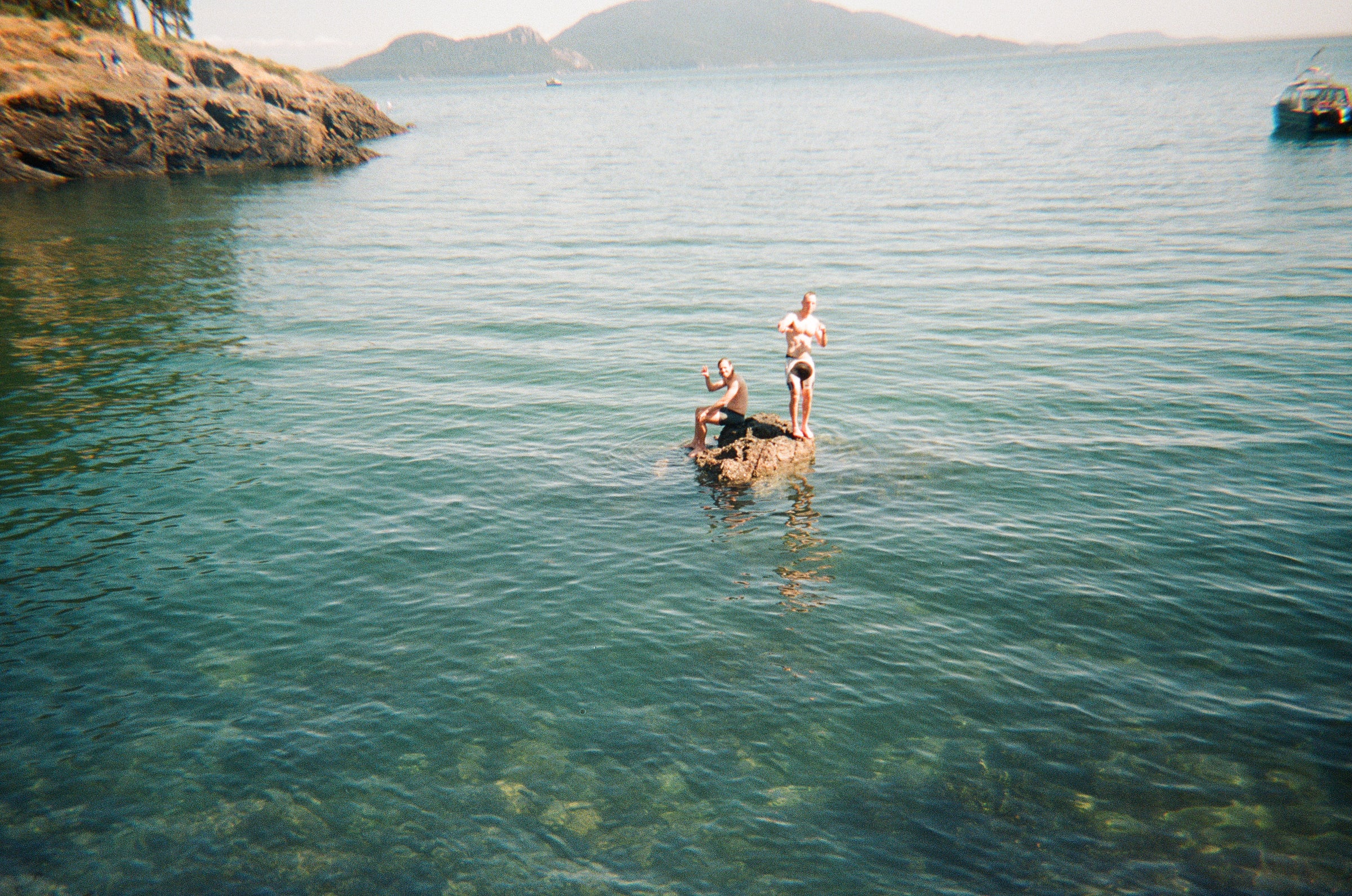 Day 2: Orcas Island to Lopez Island
The next day we took our time packing up camp, drinking instant coffee before taking off again for Eastsound. We got to cash in on our elevation for this leg of the trip, taking our time in town and grabbing some snacks at the local grocery store. We dilly-dallied a bit without keeping an eye on the clock for our ferry departure, not accounting for the time required to climb between Eastsound and the ferry landing. I was bringing up the rear and there was a moment when I said "There's no way I'll make this boat". Just when I couldn't bear hauling my stout Bianchi loaded with gear up another hill, I crested the final knoll and coasted to the Orcas ferry landing with hardly a minute to spare. Only then did I learn that the boat at the landing wasn't heading to Lopez. We drank gin and tonics while waiting 45 minutes, almost missing our actual boat because we weren't paying attention to the call for walk-ons and cyclists.
Lopez Island is much flatter than Orcas, but is hillier than my daily work commute. To offload our gear, the first destination on Lopez was our campsite at Spencer Spit. All of the hike-in/bike-in campsites on the beach were occupied, but we were able to snag the last available site nearest the beach. We unloaded our gear, set up our tents, and headed into Lopez Village. Most shops were already closed up by the time we got there. Luckily APIZZAPIE (a pizza food cart) was still open and was still slinging 'zzas. We took our pizzas back to Brewvado, a small brew pub, and sat under the shade of the outdoor tents. I went to the restroom and when I returned, the boys were in the thick of a hefty conversation of which they had to bring me up to speed.
Before this trip I had met Chaz briefly just once and had never spoken a word to Jesse or Nick (unless you count the group chat planning the trip). But here we were, digging into some pretty serious stuff. It's a testament to doing hard things together - a surefire way to make good friends quickly. Of our crew of 4, I was the only one who was single with no children. As I listened to them unpack their lives, I realized pretty quickly there is no certified path to being married with children. In cliche bike terms, there can be brutal hill climbs, deflating flats and harsh crashes along the way. After pizza and beers, one legend from our crew ripped a face melter of a fart right before realizing we weren't alone on the patio - "Yes, I heard that'' said the woman sitting alone at the table behind ours. Another sign of friends: seamless transition from serious conversation to gut busting laughter.
From there we puttered to Otis Perkins Day Park to sit on the beach, enjoy the view of the water and continue our deep conversations - including questions about the past and questions for the future. I went back to camp alone for an early night while the rest of the gang got themselves a fancy dinner at Ursa Minor. Our daily mileage came to 31 miles and 1600' of climbing.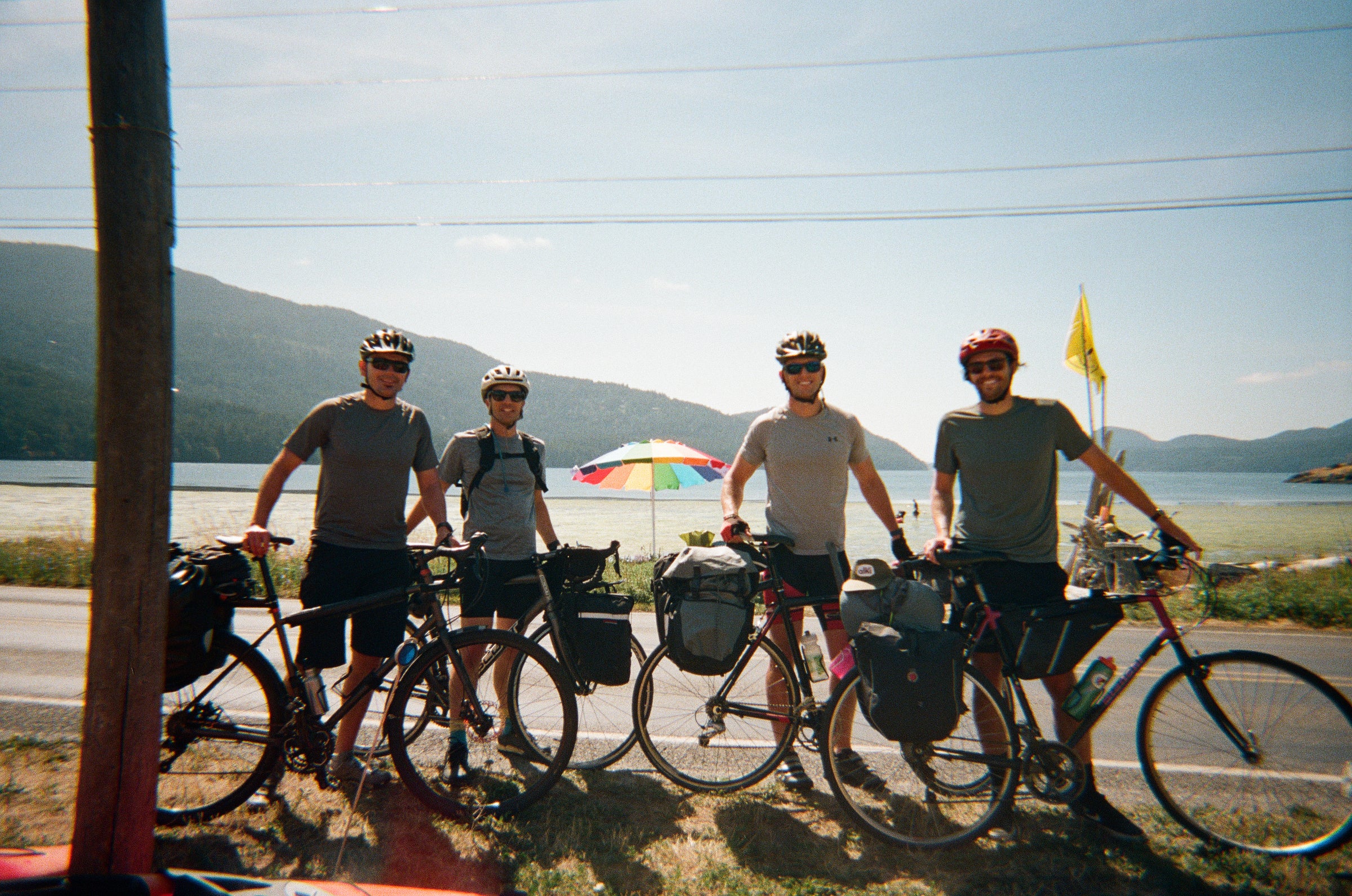 Crescent Beach, Orcas Island
Day 3: Lopez Island
Our final day found us making the trek to the southern tip of the island for panoramic views at Iceberg Point. You'd think that seeing one viewpoint of the San Juans would suffice, but every time we rolled through the interior of an island, views of the Sound were just as refreshing. We returned to camp to pack up and catch our ferry home, a distance of 29 miles and 1250' of climbing. We didn't learn our lesson from our previous ferry because, once again, we were not listening to the call for walk-ons and cyclists and barely made the boat. Our entire trip was virtually void of snafus - no flats, no crashes etc. - with the exception of leaving one bag behind at the Lopez ferry landing as we rushed to get on the boat.
Over three days we cycled 90 miles, climbed over 6,000 ft. and had more fun than I've had in a long time. Bikepacking is a unique combination of roughing it - intense hill climbs, sleeping on the ground, saddle soreness - but is totally bearable and enjoyable with the right crew. Pedaling across the San Juans on the perfect weekend was a dream and I'd do it again tomorrow - assuming my body had a chance to recover.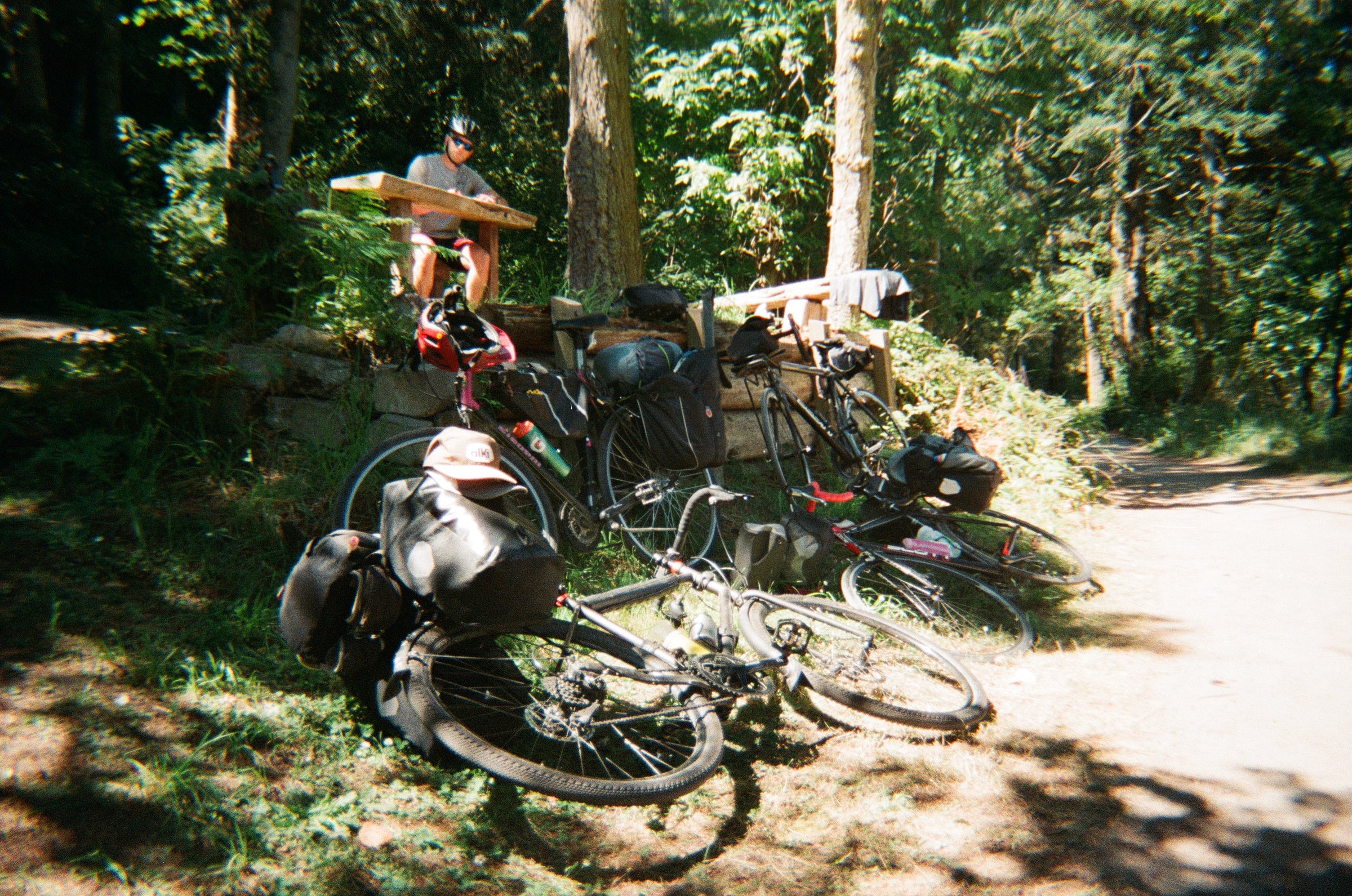 Spencer Spit State Park, Lopez Island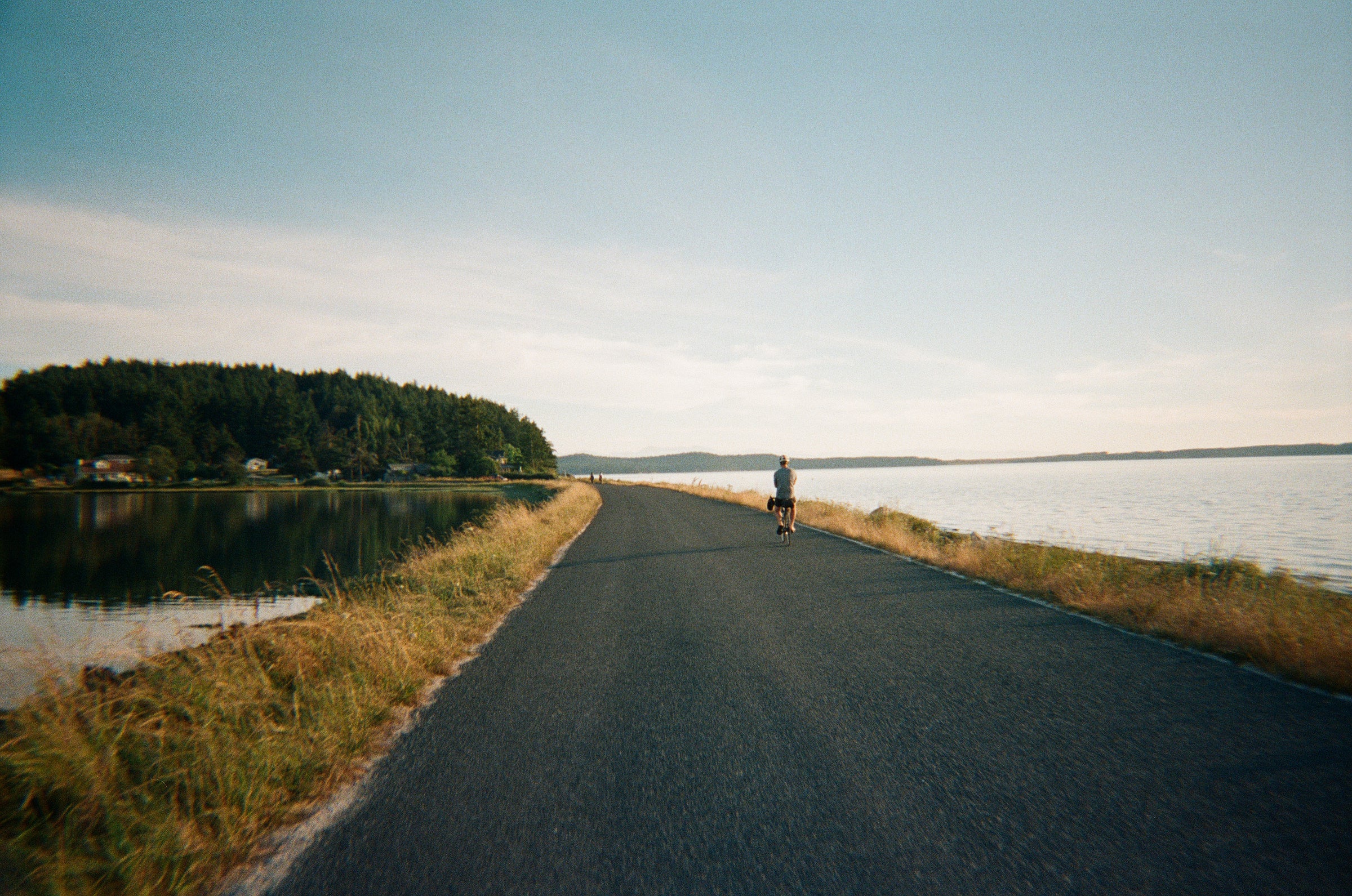 Otis Perkins Day Park, Lopez Island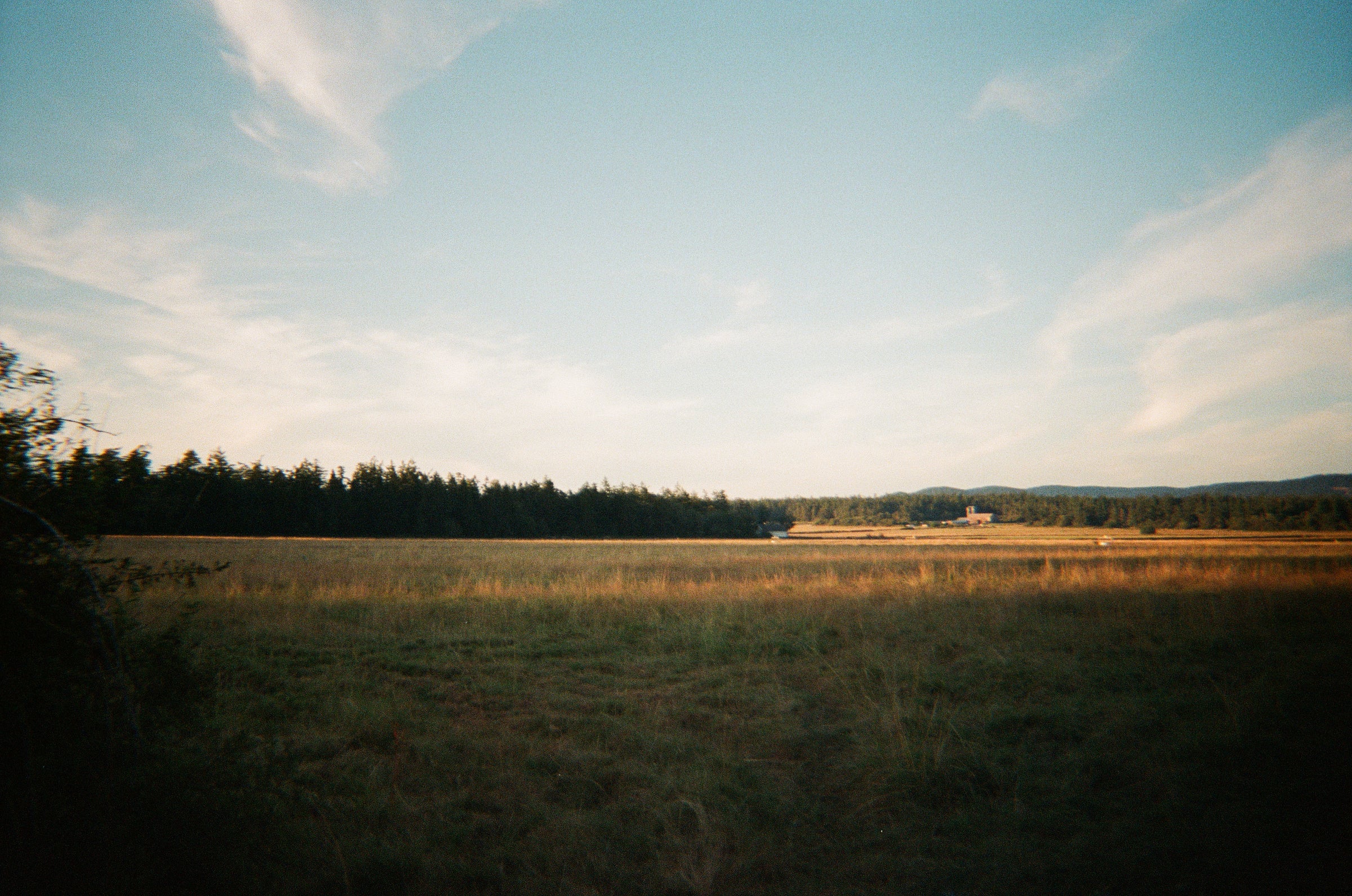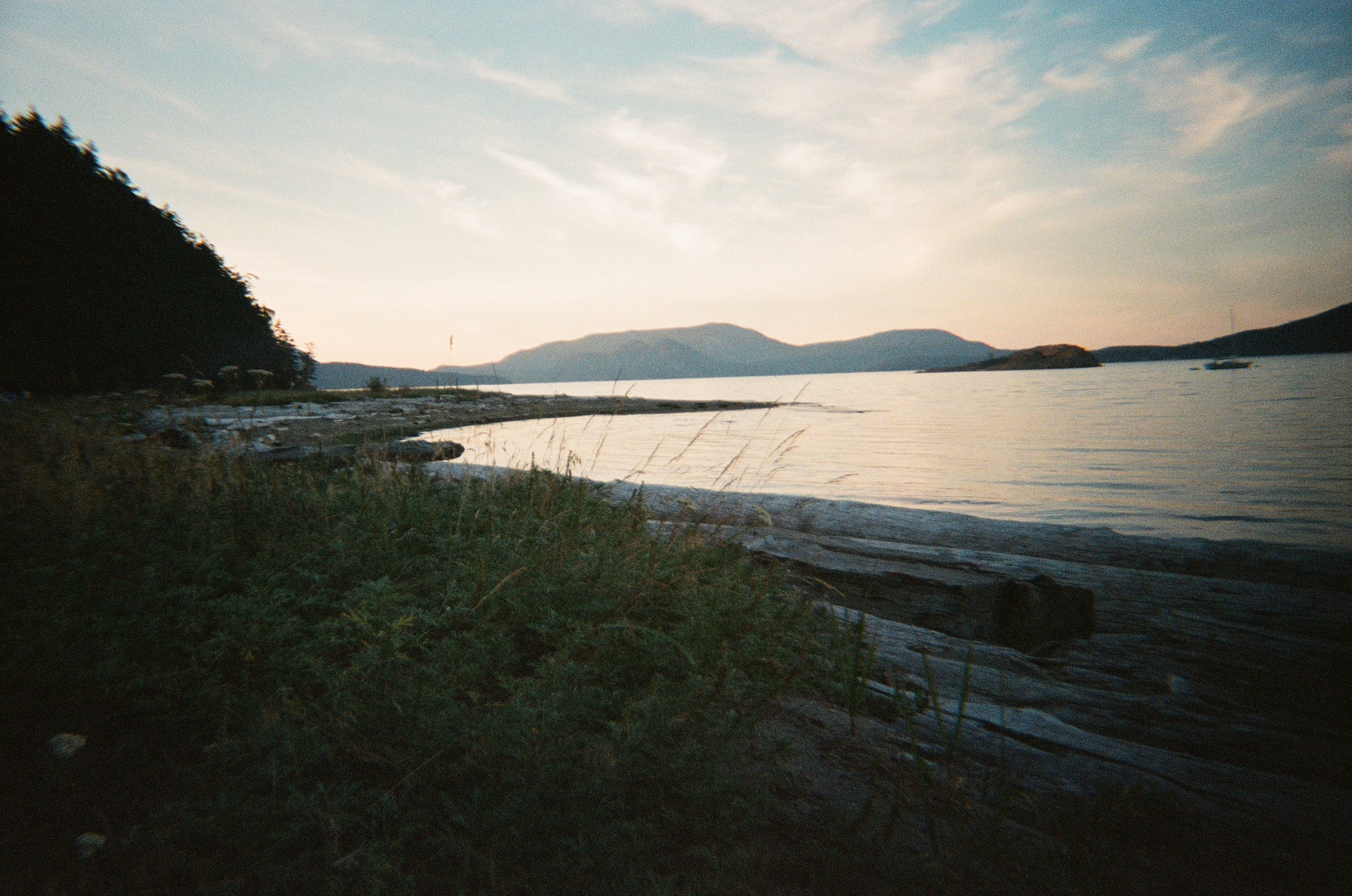 Spencer Spit State Park, Lopez Island
Epilogue: Bikes
This was my first bikepacking trip. To my embarrassment, when my friend offered to loan me his panniers for this trip, I had no idea what he was saying because I didn't know there was a fancy word for "saddle bags". I'm pretty ignorant about bikes in general and my bike vocabulary is very poor. Exposing your own ignorance can be scary and even painful but it's better than the alternative.
I've got an old Bianchi steel frame bike that was given to me over ten years ago. Last winter was my first year commuting year-round regardless of the weather. My commute is only 5 miles round trip but early in September I learned that it only takes 100 feet on a bike in heavy rain to completely soak every square inch of your body. Some days, putting on my Helly Hansen rain bib felt like donning armor to pedal into battle against the weather. In the modern, wealthy west, you can choose to virtually remove all physical adversity. That is an immense blessing - but it has its dark side as well.
"A ship in harbor is safe, but that is not what ships are built for." John A Shedd. I won't wax on regarding the benefits of physical adversity (maybe another time) but to say there are a million ways to reintroduce it into your life; bike commuting is one of those things I've chosen. Bike commuting is a triple threat benefit of exercise, environmental health (think small scale - one fewer car on the road and one more available parking space downtown) and efficiency (exercising while traveling). Sometimes it's fun, and that's good. Sometimes it's hard, and that's good too.
This year of bike-commuting got me digging into all things biking. I found myself watching some YouTube videos on bikepacking which sparked an interest in me. When my friend James mentioned that Chaz was assembling a team for a San Juan bikepack trip, it was a Tim Ferriss "Hell Yeah!" for me. That was the smartest "Hell Yeah!" I've uttered in a while. What started as an introduction to the cannon-armed Chaz transformed into a forging of friendships on the road.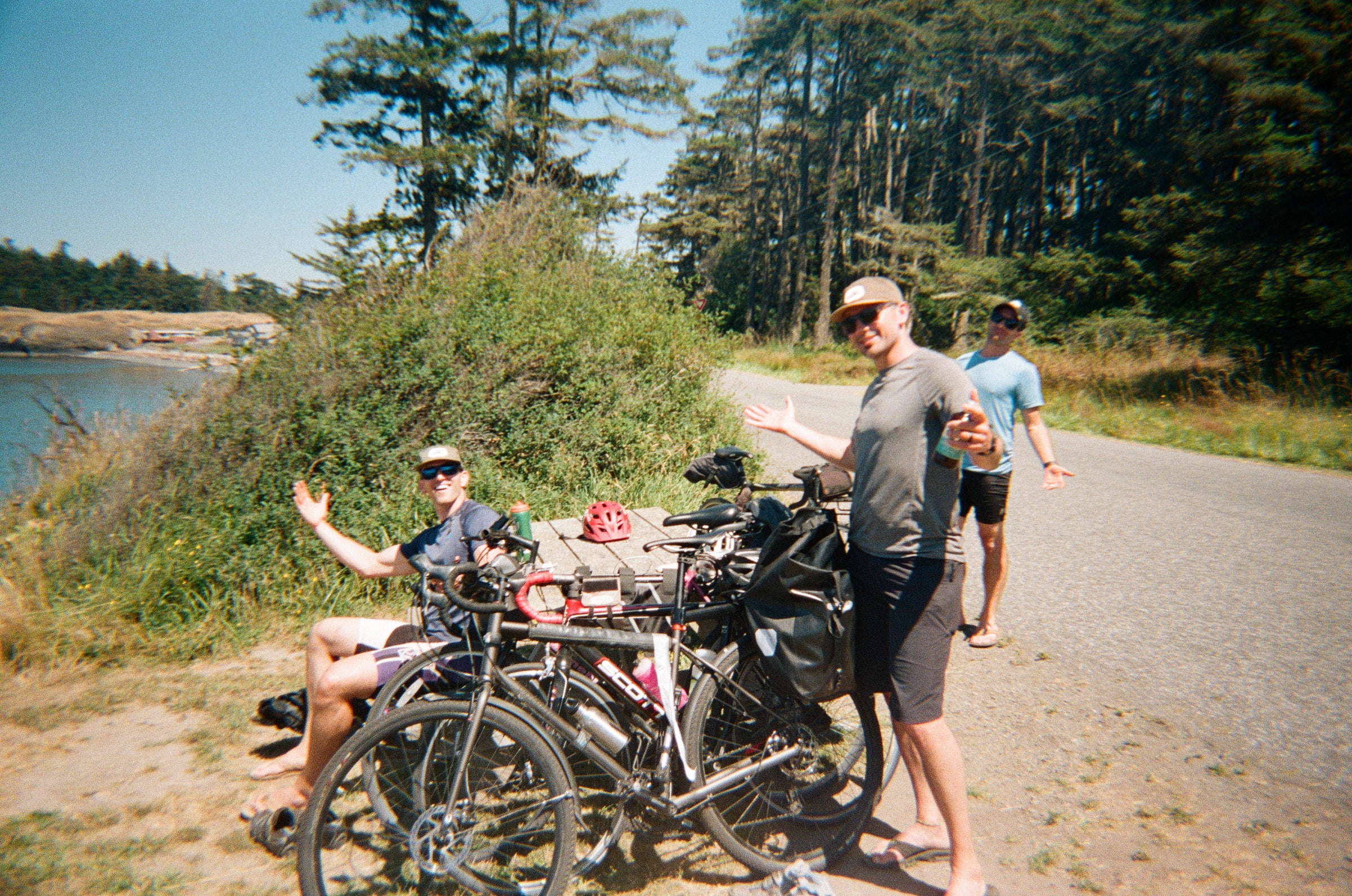 Agate Beach county Park, Lopez Island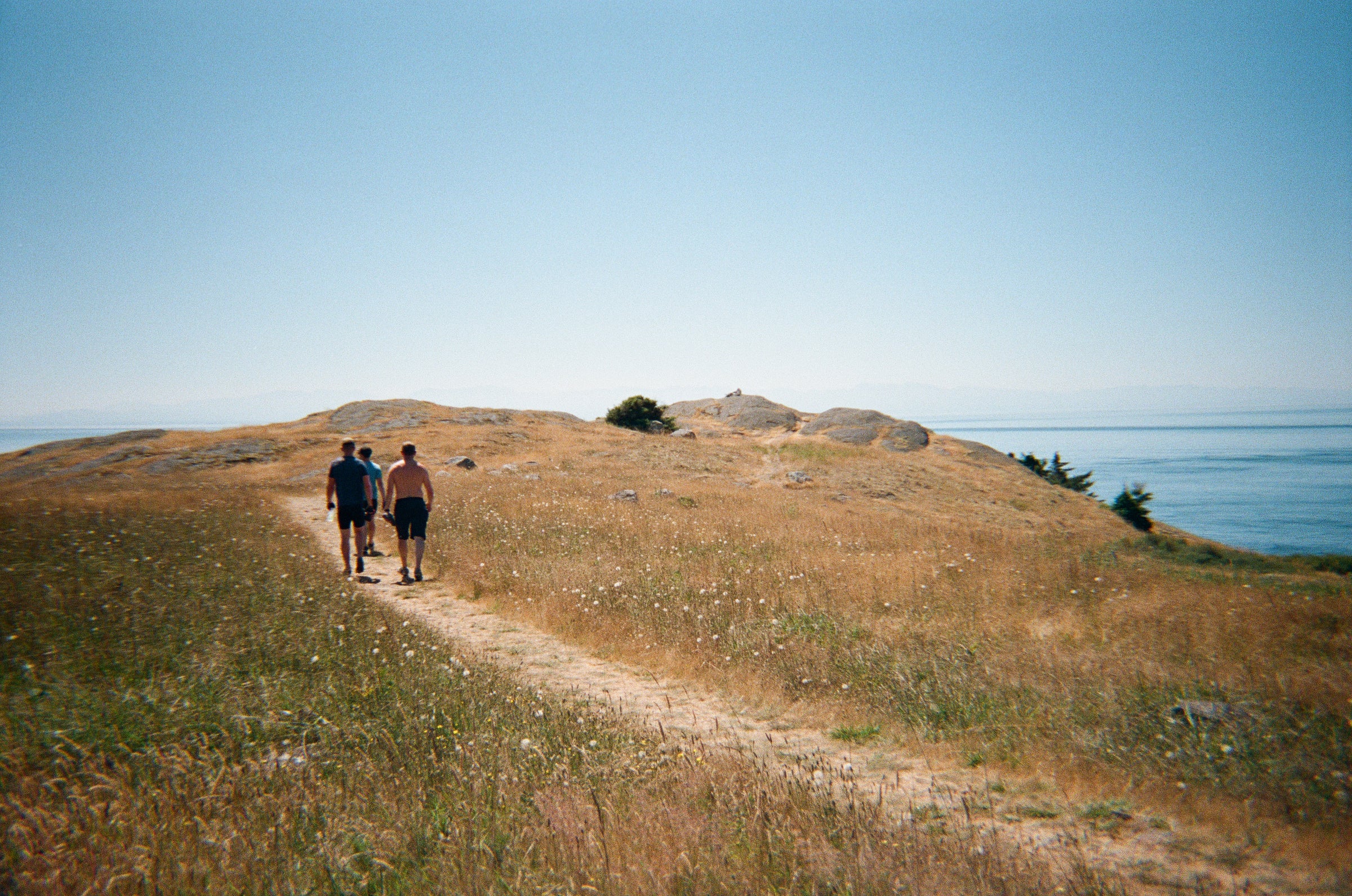 Iceberg Point, Lopez Island
Iceberg Point, Lopez Island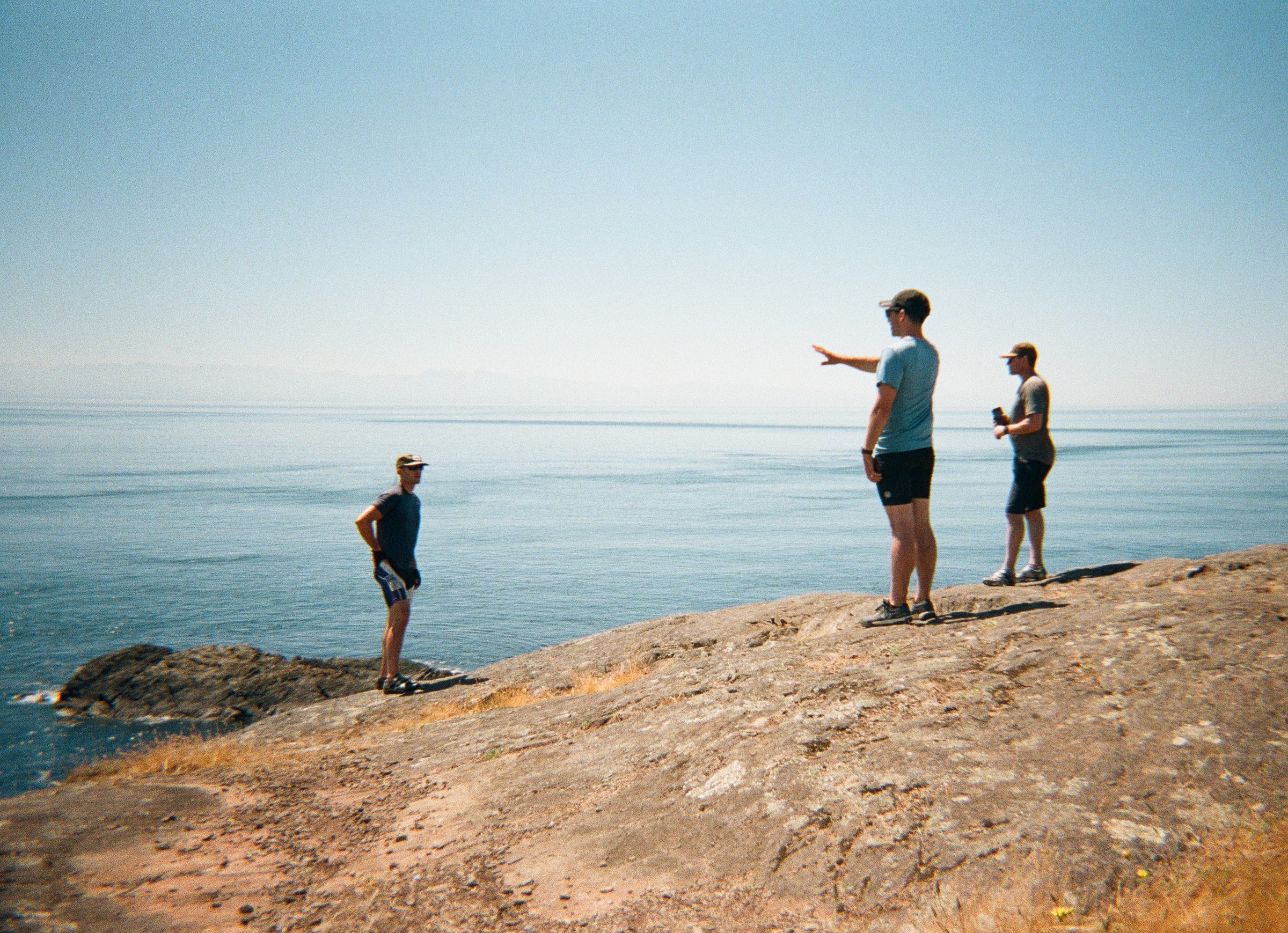 Iceberg Point, Lopez Island